Club House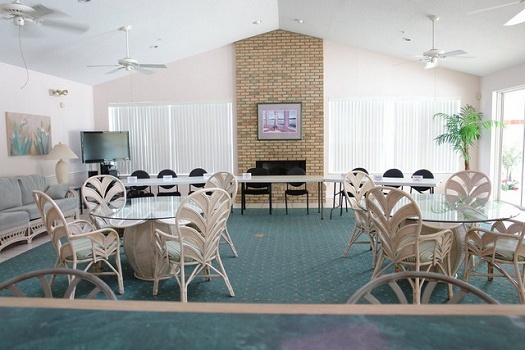 To Reserve Clubhouse ONLY contact:

Doreen Bertan 407-657-0033

Only the Clubhouse can be reserved. The Pool & Cabana area cannot be reserved.

You can download the Clubhouse Reservation Form under the 'Documents' menu.

CLUBHOUSE RESERVATION


The condo owner or resident hereby acknowledges that the use of the Carmel by the Lake Clubhouse is a privilege of ownership of the common elements of Carmel by the Lake Condominium Associate, Inc. Reservations are to be made with the social committee chairperson, Doreen Bertan, 407-657-0033.

1. A non-refundable fee of $25.00 and a security deposit of $100.00 are hereby acknowledged as received and the deposit will be returned by the association, provided the clubhouse is left in the same condition as it was at the time of the activity contemplated.

2. All activities are to cease at 10:00 PM local time.

3. NO FURNITURE IS TO BE REMOVED FROM THE CLUBHOUSE.

4. No cables are to be disconnected from the TV.

5. The undersigned acknowledges that this reservation is for the use of the clubhouse only and does not entitle the signer to the exclusive use of pool and other recreational facilities.

6. The undersigned furthermore acknowledges that he or she is responsible for all acts of the guests or other per- sons drawn to the clubhouse by the activities contemplated and the legal capacity of the clubhouse is 58 persons.

7. The undersigned guarantees that NO ALCOHLIC BEBERAGES will be served or consumed by minors and no
ILLEGAL SUBSTANCES will be used in the clubhouse or on the common areas of the association.

8. Smoking is not permitted in the clubhouse.

9. All trash is to be removed from inside the clubhouse and patio area and properly deposited in the dumpsters after the function. Dumpsters are located in the trash rooms of all buildings. Clubhouse to be cleaned by 10:00 AM the following day..

10. Pool Gate – Pool gate is to be kept closed at all times due to insurance requirements. Entrance to the clubhouse is recommended by using the north side entrance.

11. No wet bathing suits permitted in clubhouse, towel dry before entering.

12. No food or drinks around pool or spa area, food and drinks are permitted under the covered patio.

13. The condo owner or resident do hereby release the Carmel by the Lake Condominium Association of any and all liabilities in regard to the actions of guests and others, invited or not. This release shall bind the condo owner or resident in all matters except that which would be negligence on the part of the association.
Important Information
Location: Pool Area
Hours: 8:00 A.M. to 10:00 P.M.
Costs: $25.00 to reserve with $100.00 refundable deposit.